Home | Aviation | Snowboarding | Music | Mountain Biking | Hiking | Work | Radio site | W6KCS Repeater
Misc.pictures | Message Forum | Email Steve Fix for an air compressor that won't re-start due to voltage drop By Steve Dold, inventor I bought a 110V powered air compressor that needed a 15A circuit to run. Unfortunately, my hangar is on a single 15A circuit, and is about 500 feet from the breaker box, and the wire is minimum size. The compressor had no problem starting when empty, but when full, and re-starting after use, the motor would turn about two revolutions and stall, and after a few seconds, trip the breaker.

It turns out that this air compressor is a very common design, having an air pump that feeds the tank via a short pipe. At the tank end of the pipe is a check valve, mounted in the tank fitting, that keeps air pressure from the tank from holding pressure in the pipe and air pump valve area when the pump is NOT running. There's also a bleed-down valve that, when the tank reaches full pressure and the motor stops, bleeds the pressure in the pump-to-tank pipe to zero. I guess they do this either to keep pressure off the pump because it's not good for it, or might leak, or (more likely) because having no pressure in the pipe on start-up it makes it easier to get the pump going.

The problem was that when the motor starts, and the tank is already full, the pressure in the pipe builds so quickly that the motor doesn't have a chance to get up to speed before the air pressure builds and the air compressor air pump has to really start working hard. So the motor stalls, unable to turn fast enough to develop enough torque.

The fix: I added a 3/8" Tee fitting at the pump outlet, and added an air reservoir made of a foot-long 1-inch galvanized pipe nipple, with a cap on one end, and a reducer (to 3/8") at the other end. The threads around the bottom cap leak a barely-noticable amount of air, but I didn't bother to seal it too well because it's only under pressure when the motor is running, and it also serves as an automatic water-drain for the reservoir.

Now, the motor can run longer before pressure in the pump outlet pipe builds, so it has time to get up to speed where it can deliver the necessary torque. The compressor now starts just as fast whether it's empty, or pressurized. Hooray!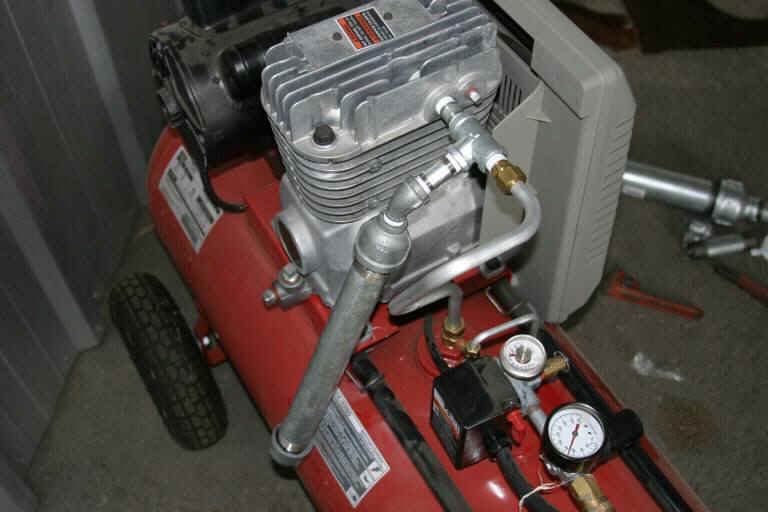 Home | Aviation | Snowboarding | Music | Mountain Biking | Hiking | Work | Radio site | W6KCS Repeater
Misc.pictures | Message Forum | Email Steve